2020 Association Assignment for June - faith
Dear Fellow Healers:
  I am so grateful for all the good you are doing as you work diligently on this assignment each month,  There are some very good posts on our website, sharing the inspiration that's coming to you as you strive to be an example of the believers as Paul urged Timothy (I Tim. 4:12):  "
Let no man despise thy youth; but be thou an example of the believers, in word, in conversation, in charity, in spirit, in faith, in purity." 
 We are certainly being challenged on many fronts to give a reason for our trust, our faith in God's goodness.  The word translated faith,in the verse above, means, according to Strong's Concordance, "persuasion, i.e. credence; moral conviction (of religious truth, or the truthfulness of God or a religious teacher), especially reliance upon Christ for salvation;...."  Standing firm for truth when the world seems to be assaulting us on all sides isn't a particularly easy task.  However, looking at the examples of Christ Jesus, the prophets, apostles, and Mary Baker Eddy, we see the powerful results of that constancy of the moral conviction of religious truth - the allness and goodness of God - in their overcoming the challenges they faced, bringing healing to a world hungry for stability and peace. 
  It's very freeing to recognize that Jesus knew that his ability to heal came from his inseparability from his Father-Mother.  He said simply, "the Father hath not left me alone" (John 8:29).  Because we are "joint heirs with Christ" (Rom. 8:17), our ability to heal comes from that same source and is entirely dependent on the ability of God to govern all that Mind creates in perfect harmony.  Mrs. Eddy acknowledges this ability of God in a response to some of her students (My. 156:4): '"I know whom I have believed, and am persuaded that He is able" — "able to do exceeding abundantly above all that we ask or think," "able to make
all grace abound toward you; that ye, always having all sufficiency in all things, may abound to every good work," "able to keep that which I have committed unto Him against that day."' 
  Since God is able, we are able by reflection to navigate the challenges of the pandemic, of the social unrest, and of the political divisions that seem to be rampant in our country and in the world.  We can be examples of the believers in a deep and abiding faith in God, good, that brings healing results.  The Bible promises that "...in all these things we are more than conquerors through him that loved us" (Rom. 8:37).  We can expect our prayers and application of the laws of Christian Science to show forth in overcoming the challenges in our own lives and seeing more of the divine government evident in our world.  
 The prayers of each of you are also needed for our Association meeting in the fall, affirming our right and ability to meet in safety and harmony.  I trust you each have the day marked on your calendars and are protecting this event from the claims of uncertainty that try to claim our attention each day.  God is divine Principle, and we can certainly trust Her love to guide and guard us all.
In last month's email, I mentioned the availability of our benevolent fund should any of you have a financial need.  The only responses I received were from several of you offering aid if more were needed!  I appreciate your generosity as well as the wonderful metaphysical work you are all doing to demonstrate God as the source of your supply.  The benevolent fund remains available if there is a need, and please don't hesitate to ask.  That fund exists because of your gifts to this Association, and its purpose is to bless. 
I'll look forward to seeing even more of your posts on the website.  What you have to contribute is of value, and our Association is strengthened when you share what you're learning.
Joyfully,
Sarah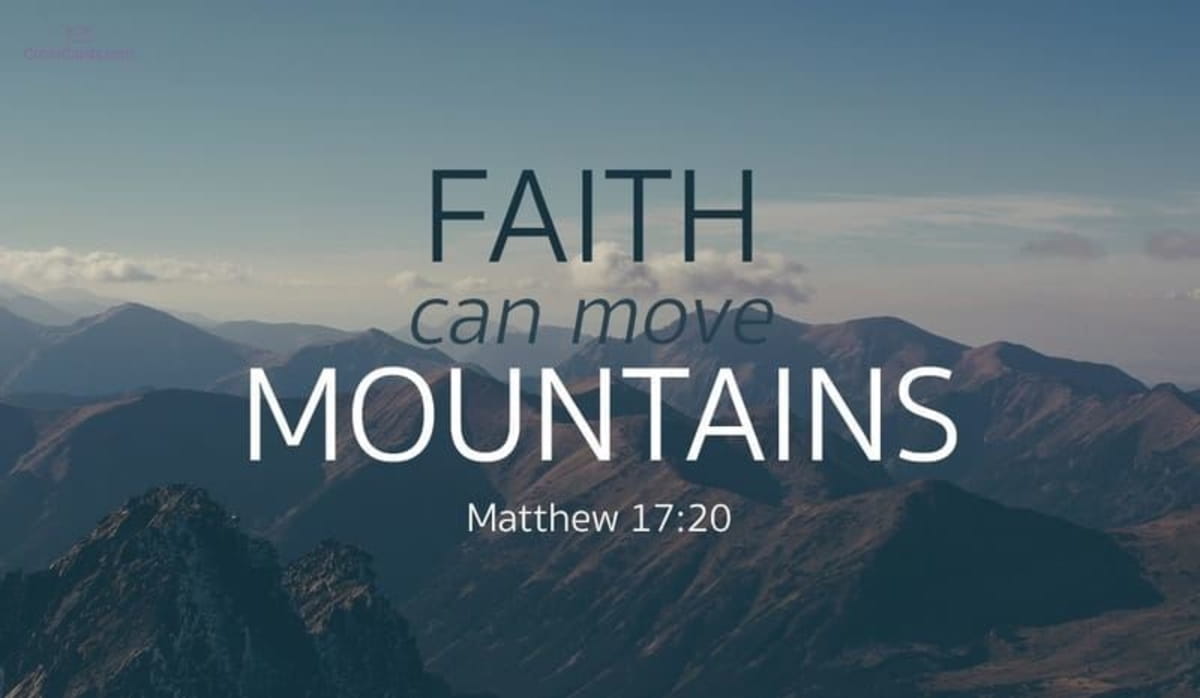 I have never had any issue in faith of god in material matters, and I feel god and faith in god has moved mountains for me many times. 
Faith in people has always been my issue as I don't believe many can be trusted. I sometimes have more trouble moving people than mountains. Especially if they are as stubborn as goats. It is difficult to have faith that good, God moves and breathes life to people, which can seem very evil at times. Faith in people involves trust in humans. I do try to be of steadfast faith when it comes to humans, but it's difficult to see that everything that moves through them is good/God/Love.
Faith in good/Good and faith in triumphing over matter have always come easier to me. 
I also feel it's easiest to feel faith in times of healthy economies and more difficult in times such as these. 
One of my favorite bible quotes on faith is the following:
"Trust in the Lord with all your heart; do not depend on your own understanding. Seek his will in all you do, and he will show you which path to take."
Proverbs 3:5-6
It gives me comfort to read these words, and I do try to trust in God and follow the path.
Hi Amanda,
  Thanks for the post and the honesty it shows as you wrestle with the ideas of living Christianity more fully.  We learned in class that our starting point is always perfect God and perfect man.  Our faith in God's allness, perfection, and power is what allows us to see and experience the best in our fellow men and women.  It helps me to start with finding something in each individual that shows his/her connectedness to the divine.  Sometimes that's just a sense of humor, a kindness shown to a co-worker, an instance of selflessness, etc.  Cherishing these instances of God's presence in those who come to our thought is what the Bible calls magnifying the Lord.  The more we focus on good and delight in finding it, the more it grows (is magnified).  This doesn't mean we're naive or unaware of the attempts of evil to harm us or others, but it does help to reveal those attempts of evil so that they can be destroyed by the light of truth. Evil is always impersonal - neither person, place nor thing.  It comes to us for its life, seeking us to give it an identity.  It's a challenge to hold to this truth when it seems so obvious that the problem is that person, place or thing, but it is the standpoint of Truth, and it heals.
  I found great help in this statement from 1st John 4:20:  "If a man say, I love God, and hateth his brother, he is a liar: for he that loveth not his brother whom he hath seen, how can he love God whom he hath not seen?"  We're not asked to love the unlovable or to trust those who have proven untrustworthy.  But we are asked to see as God sees - and that means destroying the sin in our own thought - the only place it really matters!  This answer to the question "What sins?" in Miscellaneous Writings (p. 61:20 - 62:13) explains it well:
What sins?
21 According to the Word, man is the image and likeness
of God. Does God's essential likeness sin, or dangle at
the end of a rope? If not, what does? A culprit, a sinner,
24 — anything but a man! Then, what is a sinner? A
mortal; but man is immortal.
Again: mortals are the embodiments (or bodies, if
27 you please) of error, not of Truth; of sickness, sin, and
death. Naming these His embodiment, can neither make
them so nor overthrow the logic that man is God's like-
30 ness. Mortals seem very material; man in the likeness
1 of Spirit is spiritual. Holding the right idea of man in my
mind, I can improve my own, and other people's individ-
3 uality, health, and morals; whereas, the opposite image
of man, a sinner, kept constantly in mind, can no more
improve health or morals, than holding in thought the
6 form of a boa-constrictor can aid an artist in painting a
landscape.
Man is seen only in the true likeness of his Maker.
9 Believing a lie veils the truth from our vision; even as
in mathematics, in summing up positive and negative
quantities, the negative quantity offsets an equal positive
12 quantity, making the aggregate positive, or true quantity,
by that much, less available.
Hope this helps as you continue to seek growth in grace as we all need to do.
Joyfully,
Sarah
As I have thought about this month's focus on faith, it has turned me more strongly toward God and less toward man. Mrs. Eddy says that human opinions are valueless. On the heels of the pandemic comes racial uprising, and all of the subsequent human opinions and feelings. The media has done little to help, which is where folks tend go for their facts or truth. I have really appreciated some people recognizing that activism comes in many different forms. I see some spiritualization of the concept of supporting our fellow man, which is the foundation and connection between all sects of Christianity. However, I have found mesmerism abounds with emotional depravity or ecstacy. I loved that less recently and made me more aware to be alert. There is a difference between hoping for good and faith in good. It leads to understanding that God is good and goodness is All and everywhere. Then we see that fruition. Faith has knowing and trusting as elements that we can express, which are based in Hod and not in matter. I have struggled with faith in people, but I recognize that had a lot of human will involved, which not God. When I have real faith, founded in God's laws, there is no underlying doubt or worry that I have to somehow control the outcome.
During this month there have been several citations connecting with faith in the Bible and Science and Health.  In this week's lesson citation 15 points out how the disciples needed more faith in God during the storm on the sea of Galilee.  This reminds me of a passage in the Science and Health p. 23 : 21-27 that trustworthiness is demonstrating and understanding how God is always in power.  The disciples still were trustful of the Christ idea but weren't able to prove the power of God. We are all taking steps toward proving that Divine Love is always operating. Sometimes the progress is gradual but I know that keeping my thought always open to the Truth operating helps me to be discerning and faithful to the teachings of Christian Science. I would like to share an article from the Christian Science Sentinel titled : The Storm by Eugenie Paul Jefferson. Her remarks about Jesus rebuking the disciples for their lack of faith before he rebuked the winds and waves alerts all of us to do our daily protection work too and be ready for any erroneous thoughts that try to creep in.  
The topic for June, faith, at first seemed too big to consider. However, Mary Baker Eddy, in the first sentence of Science and Health, links prayer with faith. I found JHS-On Line to be a treasure trove of articles relating to "faith". Some of the following articles may be of interest to others:
Sentinel, "Faith, Negative and Positive", 6/2/1945, Paul Stark Seeley. 
Sentinel, poem, Where is your Faith?", 4/13/1940, Amy G. Viau
Sentinel, 7/6/1935, "The importance of Faith", Violet Ker Seymore
Sentinel, 8/8/1936 "From a Letter dated 1902 by MBE" "You say when shall I learn the way? I reply, when you have all faith in Truth and no faith in error.
Sentinel, 10/12/1899, "Fear or Faith, Elinor F Edwards.
Sentinel, 2/28/2000, " Faith-blind or enlightened", Carol K. Cummings, "Like the person who taught us to ride a two-wheeler, faith runs along beside, keeping us upright and balanced."
Considering this topic in light of the many issues we all face has been a great help in my prayers for mankind.
Bill Hookham